Single origin artisan chocolate bars made from cacao sourced from different regions all over the world.
We have total control of the roasting and processing of the cocoa beans, as we do it all ourselves in Lincolnshire. Sensitive and delicate control can deliver the complex currant and tangy orange notes of the Honduras Indio Rojo (Academy of Chocolate "Golden Bean" award, 2011) or the nut and raspberry notes of the Venezuela Ocumare 72%. All of our luxury chocolate is made by hand, and made carefully.
Each 30kg batch of beans from a single estate is slowly granite-ground for between 50 and 70 hours, allowing the natural flavours to mature and fully develop. Compare the soft floral and biscuit notes of the Corazon del Ecuador 72% dark chocolate with the liquorice and cherries that the Panama Tierra Oscura 72% delivers. Surprisingly good and surprisingly different. If you prefer something completely different try the Venezuela Ocumare 55% strong milk chocolate. Winner of the Academy of Chocolate Gold Award, 2013.
Our Approach
All chocolate is made from cocoa beans – there is still no substitute or artificial chocolate flavouring that can be used as chocolate. So why do we use this term? What does it imply? Why do we care?
What "bean to bar" means to us is that we -  Duffy's Chocolate – are a small-scale producer of quality chocolate. We buy unroasted beans and perform all the rest of the processes ourselves, without compromise. They are sorted by hand and carefully roasted to bring out all of their natural flavours and drive off the bitterness.
The beans are broken into small pieces and the shells removed. The pieces of bean (nibs) are gradually added to a granite grinder and left turning overnight by which time they have formed a thin liquid.
On the second day organic cane sugar is added, gentle heat is applied and the mixture carries on slowly grinding for another two days. A little cocoa butter is added so that the chocolate melts nicely in the mouth and finally a little sunflower lecithin so that we can mould the finished bars without too many bubbles forming which spoil the appearance.
After four days we have 30kg of chocolate – enough to make about 300 bars. It takes a day to pour the chocolate into bar moulds and another day to wrap them with foil by hand and then cover them with a paper wrapper.
We could buy huge big machines, we could care less about the quality of the beans we buy and how much the farmers get paid, we could be less bothered about driving off bitterness and allowing rich natural flavours to mature – but it wouldn't be the same without all this care and obsessive attention and it wouldn't be Duffy's Chocolate, winning awards, tasting great and trying to do the right thing.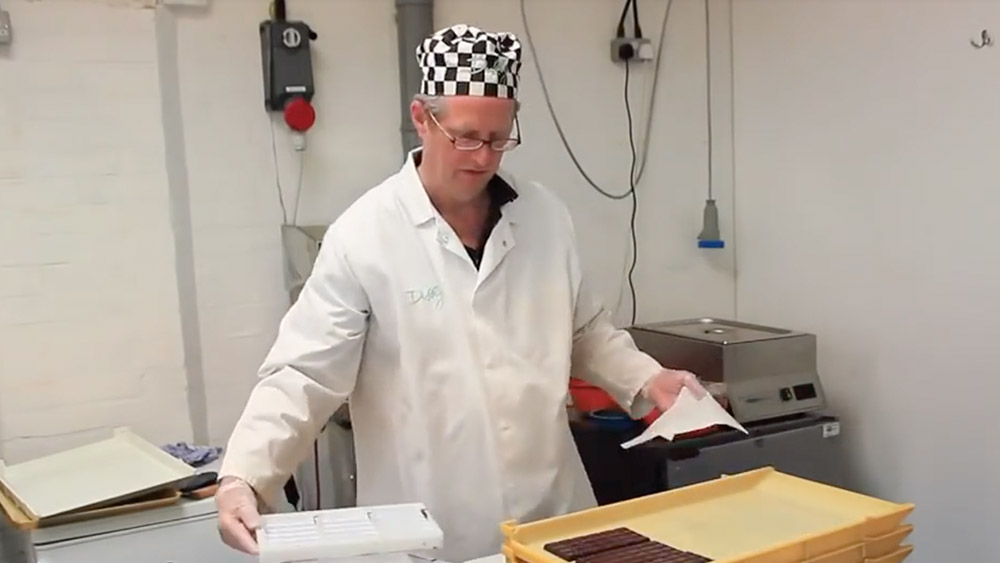 Direct Cacao
Direct Cacao – as an idea – has been floating around for a few years. Something was needed – is needed – to help change the future of cocoa farmers, to change how chocolate is made and to change how fine chocolate is understood.
Martin Christy of Seventy% has been the driving force and a couple of years ago he assembled a group of cocoa growers, chocolate makers, chocolatiers and industry professionals in Honduras to start the process of converting ideas into firm proposals. We came away enthused and energised, with missionary zeal in our hearts. There were some top people there – Gary Guittard from San Francisco, Art Pollard of Amano, also in the USA, Frank Morin from France, Mikkel Friss-Holm from Denmark for example. That's just the chocolate makers!
The ideas and ideals are simple. Fairtrade isn't a great model in the world of cocoa and doesn't always deliver much of an improvement in the quality of life for the farmers. At the same time it has no focus on quality and doesn't/can't reward farmers for growing and post-processing better flavour beans.
This is where the Direct Cacao model comes in. We chocolate makers agree to pay whatever the cocoa farmer asks for his beans without haggling or complaining. The farmer has to grow fine flavour cocoa beans to make it worthwhile our paying the extra for them. The chocolatiers can make truffles and so on using fine flavour couverture and we can all help to tell the world that it's worth paying a bit extra for fine flavour chocolate! The extra that I pay for the beans goes direct to the grower – there are no middlemen taking a cut.
This encourages the farmer to take more care of his crop, to ferment the beans well, dry them properly and be proud of them. His skills are repaid, he can afford to be ill, send his kids to school and maybe have something he can hand on in the future.
Direct Cacao is now officially open for business! I drafted the constitution with Martin and potential members can now apply on-line on the Direct Cacao website. I can't wait to see what decisions they make and what progress is made. It could be a genuine way to help cocoa farmers and to raise the profile of fine chocolate.